Volkswagen on Wednesday said its profits in the first half of this year would be significantly higher than expectations, as it increased its provisions for costs of the diesel emissions scandal.
The German carmaker's shares jumped almost 7 per cent after it said better than anticipated sales of VW-branded cars in the second quarter would push its operating profits before one-off items to €7.5bn. Analysts had expected profits of €6.5bn.
Sales of VW cars were hit after the company admitted last September that it fitted up to 11m diesel cars worldwide with software that cheated tests for emissions of harmful nitrogen oxides.
On Wednesday VW set aside more money to cover the costs of the scandal — raising the total from €16.2bn to €18.4bn — due to further legal risks predominately arising in North America, where the affair was uncovered.
The increased provision comes a day after VW was sued by three US states, in a move that could see hundreds of millions of dollars added to its penalties for the affair.
In April VW reported a net loss of €1.6bn for last year — the worst annual performance in its history — because of the costs of the emissions scandal.
Then last month, the company announced a settlement worth up to $15.3bn with owners of VW cars in the US who were affected by the scandal, plus federal regulators.
Stuart Pearson, analyst at Exane BNP Paribas, said VW risked provision creep if it increased its charges for the affair every time it issued results.
He added: The additional . . . diesel provision cannot be ignored and will raise fears of 'provision creep' each quarter as legal risks rumble on.
In an ad hoc announcement ahead of its second-quarter results next week, VW said it expected operating profit of €5.3bn for the first half of this year after taking the increased provision for the emissions affair into account.
Shares in VW rose 6.8 per cent to €124.35 in afternoon trading in Frankfurt.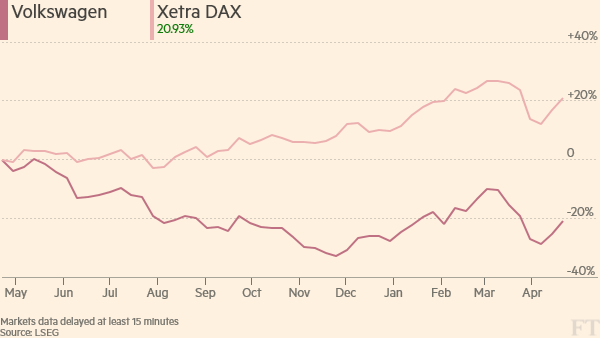 The company's improved profitability was boosted by a further recovery in the European car market, as well as higher orders from corporate fleets.
But VW said it expected revenue for 2016 to be down by 5 per cent compared to last year partly due to the diesel issue, as well as exchange rates fluctuations and weakness in the South American and Russian markets.
The company said its group operating margin would be around 5 to 6 per cent during 2016.
Analysts said the better than expected results indicated that margins were strengthening at the VW brand, which has been underperforming for several years partly due to relatively high costs.
The VW brand margin improvement is a clear indication that things are improving faster than many expected, said Arndt Ellinghorst at Evercore ISI.