FirstGroup is to become the first UK bus and rail operator to run a US passenger rail operation after the company won a contract to run services on the outskirts of Dallas in Texas.
FirstGroup said on Wednesday it would start operating the A-train commuter service between Denton and Lewisville in suburban Dallas from October. The contract runs for nine years, with an option to extend for a further five.
The contract, which is expected to bring in only about $9m revenue per year, is more significant for its symbolic value than its financial rewards. While the UK's listed bus and rail operators — which include Stagecoach, Go-Ahead and National Express — all have some US bus operations, none has previously won a rail contract.
Henry Posner, a Pittsburgh-based investor, said US public bodies were putting more and more commuter rail operations out to competitive tendering, to ensure value for money.
I've felt for a long time that the logical operators of rail services by the private sector are likely to be European companies.
The contract was awarded to FirstGroup by the Denton County Transportation Authority, for which the UK company already runs certain bus services.
The deal is unusual in that it has been awarded to a company without any links to public bodies.
Most US commuter rail operations are still run by local governments or publicly owned transit agencies.
In 2014, France's Keolis was awarded an eight-year contract to operate commuter rail services around Boston, but the company is a spin-off from SNCF, France's state-owned train operator.
Many other suburban rail services in the US previously run by public agencies are now operated by Transdev, which is majority owned by Caisse des Dépôts, France's state-owned savings bank.
This is a true, private sector company, said Mr Posner, referring to FirstGroup. This is a big deal, even though it's a relatively small operation.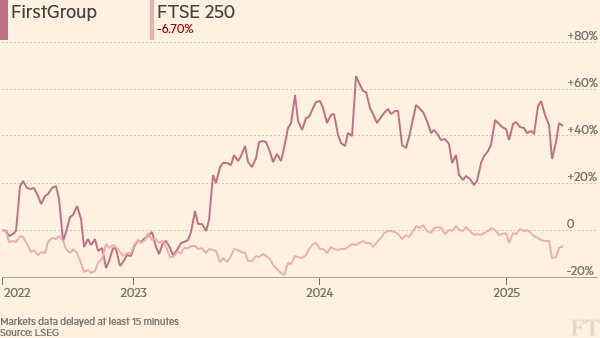 FirstGroup said rail in the US was a new opportunity the company was very pleased to win and aimed to build on.
This contract is an ideal opportunity to operate an entire commuter railway in the US, providing an excellent entry point, it added.
FirstGroup's US operations include the famous Greyhound long-distance coach operations, as well as extensive local and school bus operations.
Tim O'Toole, FirstGroup's chief executive, was the last top manager of Conrail, a US rail freight operator, before it was taken over and split between Norfolk Southern in 1998.